Using Commas to Set Off Interrupters
Expressions or phrases that interrupt a sentence should be set off with commas. Use two commas, one before and one after the interrupter, unless it appears at the beginning or end of a sentence.
Examples: The movie we saw last night, Finding Nemo, is about a fish looking for his family.
It was,in my opinion, one of the best family movies ever made.
For example, it celebrated the bond between a father and his child.
Using Commas to Set Off Interrupters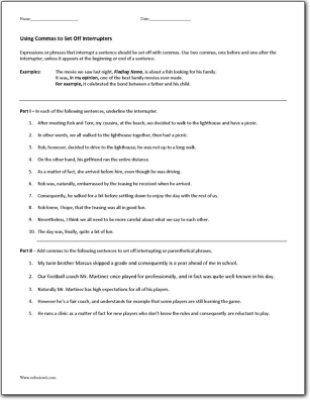 Related Links:
Commas
Commas
Capitals and Commas
Commas in Addresses
Using commas in addresses
Using commas in addresses
Using commas and quotation marks to indicate direct speech
Commas and Coordinating Conjunctions
Commas: Introductory Elements
Commas: Items in a Series
Commas: Direct Address and Tag Questions
Commas
Commas in Dates Quiz
Commas in Places Quiz
Comma Quiz