Commas: Introductory Elements
Commas should be used to separate introductory elements from the main part of the sentence. Introductory elements can be single words (i.e. interjections), phrases (i.e. prepositional phrases), or clauses (i.e. adverb clauses).
Example: Wow, you really know your stuff!
On Tuesday, we will have ice cream.
Before we leave for the circus, I need to find my clown nose.
Commas: Introductory Elements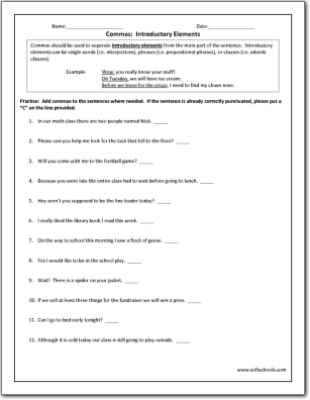 Related Links:
Commas
Commas
Capitals and Commas
Commas in Addresses
Using commas in addresses
Using commas in addresses
Using commas and quotation marks to indicate direct speech
Commas and Coordinating Conjunctions
Commas: Items in a Series
Commas: Direct Address and Tag Questions
Commas
Using Commas to Set Off Interrupters
Commas in Dates Quiz
Commas in Places Quiz
Comma Quiz