Using commas and quotation marks to indicate direct speech
To quote direct speech, use a comma after the introductory clause:
Example: I asked, "Where are you going?"
If the clause or dialog tag follows the direct speech, place the comma at the end of the quote and before the clause:
Example: "I am going to the library," I said.
If the direct speech is a question, rather than a statement, replace the comma with a question mark.
Example: "Where are you going?" I asked.
Using commas and quotation marks to indicate direct speech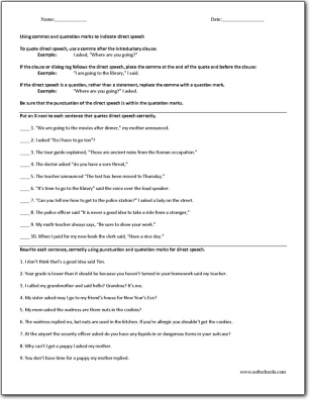 Related Links:
Commas
Commas
Capitals and Commas
Commas in Addresses
Using commas in addresses
Using commas in addresses
Commas and Coordinating Conjunctions
Commas: Introductory Elements
Commas: Items in a Series
Commas: Direct Address and Tag Questions
Commas
Using Commas to Set Off Interrupters
Commas in Dates Quiz
Commas in Places Quiz
Comma Quiz