Transition Metals
Transition metals are a group of elements on the periodic table located in the middle or group B section. This placement coincides with elements which have their d-orbitals being filled by electrons. Because of the nature of the d-orbitals, and the stability of empty, half-filled, and completely filled orbitals, transition metals often have more than one oxidation state. Iron, for example, can lose 2, 3 or 6 electrons depending on the reaction to create oxidation states of +2, +3 or +6.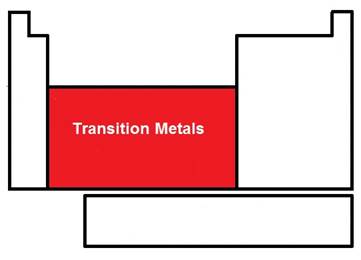 Transition metals have an array of physical properties:
They are most often found in minerals.


Most transition metals will produce compounds that have a vibrant color including colors that vary with the varying oxidation states.


Many transition metals are magnetic.


Many transition metals can form complex ions.
To link to this Transition Metals page, copy the following code to your site: