Platinum (II) chloride Formula
Platinum (II) chloride Formula
Platinum (II) chloride, also known as platinum dichloride, is a inorganic compound used as raw material or precursor on the synthesis of other platinum compounds.
Formula and structure: The platinum (II) chloride chemical formula is PtCl2 and its molar mass is 265.99 g mol-1. The molecule is formed by two chloride Cl- anions and 1 platinum Pt+2 cation. The molecule crystal structure is hexagonal with 4 anions bond to 1 cation and vice versa. Its chemical structure can be written as below, in the common representations used for organic molecules.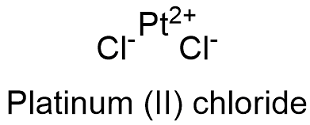 Occurrence: Platinum chloride is not found in nature as a free compound, it is prepared through chemical synthesis.
Preparation: The platinum (II) chloride can be prepared through the follow methods:
a) Direct chlorination of platinum at high temperatures:
Pt + Cl2 → PtCl2
b) Thermal decomposition of chloroplatinic acid at 500 ºC:
H2PtCl6 → PtCl2 + Cl2 + 2 HCl
c) Reduction of chloroplatinic acid with hydrazine
Physical properties: Platinum (II) chloride is a odorless, dark brown solid or olive green crystal. Its density is 6.05 g mL-1. Platinum (II) chloride melting point is 581 ºC and above this temperature decomposes. It is insoluble in water, alcohol or ether but it is soluble in aqueous acid solution. It is diamagnetic.
Chemical properties: The platinum chloride can be used to synthesize other platinum compounds due to the platinum atom is metal from the transition metals of the periodic table, i. e, it has a large "d" shell, which can take electrons from other chemical species. Thus, the complex of water and ammonium (that are species with lonely pair of electron avalaible) are very easily form by the platinum chloride.
Uses: Platinum (II) chloride is a raw material to produce other platinum compounds. These compounds generally are ligands of platinum/chloride with ammonium or water. Other important products of platinum produced from platinum (II) chloride are the cisplatin (anti-tumoral substance) and catalysts of platinum.
Health effects / safety hazards: Platinum (II) chloride is toxic y ingestion. It can also be an irritator of eyes and mucous. It is corrosive and toxic for environments.